10X38mm 1000V DC Solar PV Fuse
Yueqing Aidun Electrical produce "SOLARSON"brand SSPV series of 10X38mm 1000VDC MC4 solar panel fuse +holder is designed to provide over-current protection for solar arrays. The use of a fuse can protect your solar array from unnecessary damage from an over-current event.
Product description
Rated Current:1A,2A,3A,3.5A,4A,5A,6A,8A,10A,12A,15A,16A,20A,25A,30A
Rated Voltage: 1000 V DC
Rated breaking capacity:DC 33kA
Operating class gPV and UL PV fuse link for Solar protection
Test Voltage: 6000V (50Hz,1 min)
Degree of Protection: IP2*/IP67
Suitable Connector: MC4 Connector
Contact Resistance of Plug Connector:1mΩ
Insertion Force / Withdrawal Force: ≤50N / ≥50N
Contact Material: Copper, Silver Plated
Fuse Can Replace
Insulation Material: PPO
Temperature Range: -40 to +125°C
Weight: 1.23 oz
Dimensions: 4.8 x 0.8 x 0.8 In
Technical data
Item

Product type

Size

Rated Voltage

(V)

Rated Current(A)

Installation Method

Drawing No.

001

SSPV-30

10X38

1000VDC

1,2,3,3.5,4,5,6,8,10,12,15,16,20,25,30

Cylindrical

Drawing 1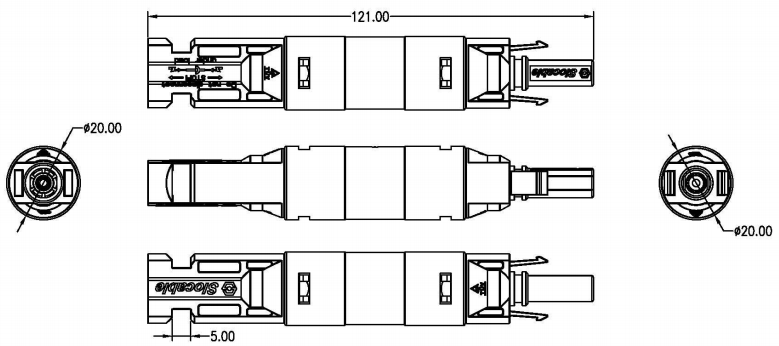 Safety tips
For protection against electric shock, MC4 solar inline fuse holder must be isolated from the power supply while being assembled or disassembled.
The end product must provide protection from electric shock.
Unplugging under load: PV plug connections must not be unplugged while under load. They can be placed in a no load state by switching off the DC/AC converter or breaking the AC circuit interrupter. Plugging and unplugging while under voltage is permitted.
Disconnected connectors should be protected from dirt and water with sealing caps.
om dirt and water with sealing caps.